Greg Colón Semenza, Professor of English at the University of Connecticut, is both the current Director of the Early Modern Working Group and UConn's Folger Consortium representative.
He has won two of his university's most prestigious teaching awards, the AAUP Excellence Award (2005) and the Teaching Fellows Award (2005-06).  In most semesters, Greg will offer one early modern literature and one film or adaptation studies related course.  As a former Director of Graduate Studies in his department (2004-2010), he remains committed to teaching and advising graduate students as well as undergrads.
Greg's main research interests are split between early modern culture and film/adaptation studies; occasionally, these two interests overlap.  He is the author of Sport, Politics, and Literature in the English Renaissance (U Delaware P, 2004); Graduate Study for the Twenty-First Century: How to Build an Academic Career in the Humanities (Palgrave Macmillan, 2005; expanded 2nd ed., 2010); the follow-up collection, How to Build an Academic Life in the Humanities (forthcoming 2015); The English Renaissance in Popular Culture (Palgrave Macmillan, 2010); and with Laura Knoppers, Milton in Popular Culture (Palgrave Macmillan, 2006).  He has published journal articles on such diverse subjects as Tim Blake Nelson's teen film O, the Sex Pistols, the globalism of silent Shakespeare films, Shakespeare: The Animated Tales, and wrestling in The Canterbury Tales; he also edited the 2010 forum "Shakespeare After Film" for Shakespeare Studies and a special issue of Shakespeare Bulletin focused on auteur Shakespeare films (2016).
Greg's latest published book, co-authored with Robert Hasenfratz, was The History of British Literature on Film: 1895-2015.   It was the first comprehensive narration of cinema's 100-year-old love affair with British literature, and the first volume of "The Bloomsbury History of World Literatures on Film" series, which he and Hasenfratz are editing.  Current projects include two collaborations with Professor Garrett Sullivan: their nearly complete book, Powell and Pressburger's War, a study of the great British filmmaking duo's World War 2 propaganda films; and The Cambridge Guide to Shakespeare on Screen: Film, TV, and Beyond (forthcoming 2022 from Cambridge University Press).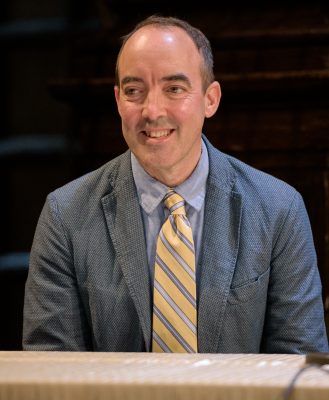 Brendan Kane is Associate Professor of History and of Literatures, Cultures and Languages at UConn. He was the founding Director of the Early Modern Studies Working Group and, having initiated UConn's entry into the Folger Institute's Consortium, served as the university's first Consortium representative (2014-18).
His research focuses primarily on early modern Ireland and England, with particular attention to colonialism and encounter. He is the author of The Politics and Culture of Honour in Early Modern Britain and Ireland, 1541-1641(Cambridge UP, 2010) and co-editor with Valerie McGowan-Doyle of the collection Elizabeth I and Ireland (Cambridge UP, 2014). In 2013, he co-curated an exhibition at the Folger with Thomas Herron, Nobility and Newcomers in Renaissance Ireland, and co-wrote the catalog of the same name. Currently, he is engaged in a study of legitimacy in early modern Ireland.
Kane has a particular interest in the Irish language, an Ghaeilge, and analyzing Irish-English relations using vernacular sources from both societies. That interest in the multilingual study of early modern Ireland and England led him to start Léamh.org, a digital project which seeks to assist those wishing to engage with Early Modern Irish texts, c. 1200-1700.
His interest in encounter and the challenges of negotiating difference carries over to contemporary society as well. He is founding co-director of the Encounters Series, a program for public dialogue that links scholarly research with community concerns, and the founding and current Director of UConn's Democracy and Dialogues Initiative, housed in the Thomas J. Dodd Research Center under the aegis of the Human Rights Institute.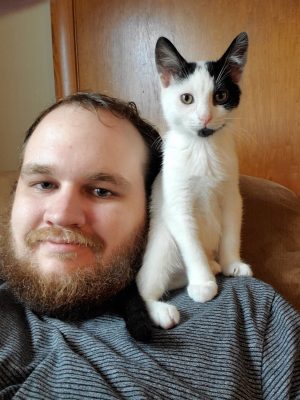 Aaron Proudfoot is a Ph.D. student in the English department who focuses on early modern literature and adaptation Studies. He completed his bachelor's at Wayne State University in Detroit, Michigan, close to where he grew up before moving to Connecticut in 2017. He is going into his second year as a graduate student coordinator of the Early Modern Studies Working Group and his first as president of the English Graduate Student Association. When he's not working, you can usually catch him watching sports, science fiction, fantasy, or crime dramas.
Aaron's research focuses on screen adaptations and appropriations of Shakespeare's works and biography, but he also studies other Elizabethan poets and playwrights as well as the works of John Milton. With a particular interest in biopics and early modern biofiction more broadly, Aaron often thinks and writes about films and television shows that feature Shakespeare as a character (including All is True, Shakespeare in Love, Upstart Crow, and Will). He is interested in how recent popular culture envisions and appropriates the early modern period, not only through adaptations of the works of early modern artists, but especially through depictions of the process of composition and performance as it was imagined to have taken place.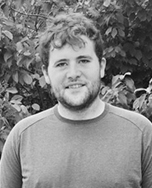 Emmet de Barra is from Dublin, Ireland and is a Masters student in the Department of History at the University of Connecticut. His main research interests are Gaelic and Gaelicised Ireland, Irish Language sources in Early Modern Ireland, Classical Irish Poetry, and the grammar of Classical Irish. He attended Trinity College Dublin for his undergraduate degree in History and Irish. Emmet also has a keen interest in Irish paleography and manuscript production.